Artistic teens celebrate NAIDOC week
Artistic teens celebrate NAIDOC week
By: yourtown
05 Jul 2019
Media Releases
Arising out of the donation earlier in the year of 30 Bridal Gowns to yourtown Kingston, Indigenous Programs Manager Renee Mann saw a great opportunity to promote and acknowledge Indigenous culture and story-telling through a whimsical art project in conjunction with NAIDOC Week (7 – 14 July 2019).
"Through the Indigenous Youth Engagement and Training (IYET) program yourtown works with Indigenous students aged 15 – 17 who are identified at high risk of leaving school early to re-engage and complete their formal education to successfully transition from school to work," said yourtown CEO Tracy Adams.
Eighteen (18) IYET program students from Woodridge, Park Ridge and Bundamba State High Schools worked together under the guidance of their Indigenous Mentors and yourtown Art Trainer Evangeline Goodfellow to tell their story and experience in collaborative pieces around the 2019 NAIDOC theme saying I DO to Voice. Treaty. Truth. Working together for a better future.
"This is an exciting project for our yourtown team not just because of the scope of the art pieces, but also because of the valuable conversations that we were able to facilitate with the students, giving them the opportunity to discuss current issues impacting on their lives and culture," said Ms Mann.
Ultimately, three gowns will be showcased as part of Art from the Margins Gallery & Studios, Wesley Mission NAIDOC Exhibition, from 13th July to 24th August. Art from the Margins is a creative initiative of Wesley Mission Queensland that brings outsider artists together and bridges the gap between artists and the wider community.
Ms Adams said that yourtown hopes this NAIDOC themed artwork project plays an important part in a national discussion towards the recognition of Indigenous artwork as a medium of story-telling.
ENDS
yourtown Corporate Communications & Media Advisor: Maree Reason-Cain, 0423 843 786 OR [email protected]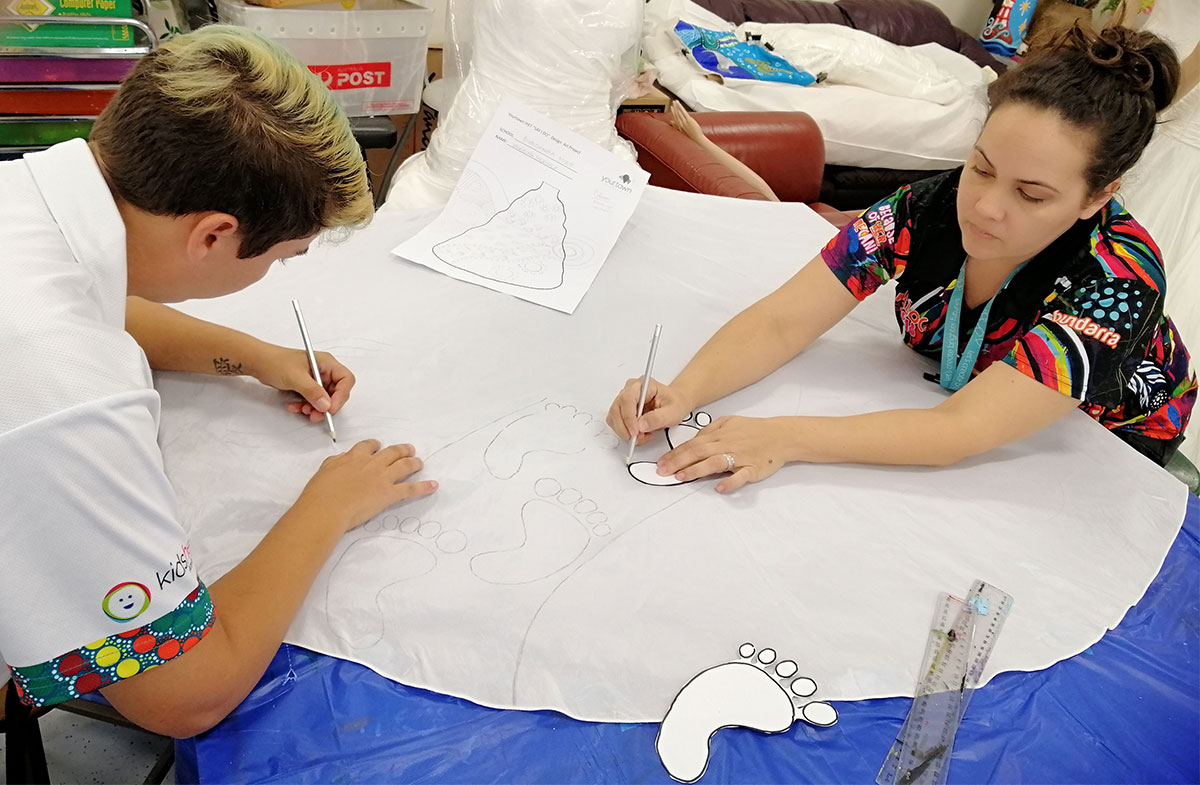 Photo: (L-R) Indigenous Mentor, Tina Martin, and yourtown Indigenous Programs Manager, Renee Mann.