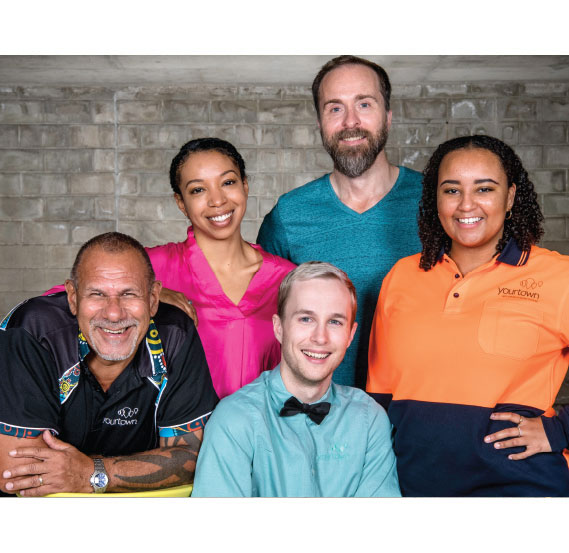 About Us
Established in 1961, yourtown is a trusted provider of services for young people, with a focus on mental health and wellbeing, long-term unemployment, prevention of youth suicide, child protection, as well as support for those experiencing domestic and family violence. we are a safe, welcoming community where everyone respects and sees value in every young person. Every young person in Australia deserves a safe place to be, where they are respected and free to be themselves without judgement.

Kids Helpline, Parentline, child protection, domestic and family violence support, mental health support, suicide prevention and employment are all services powered by yourtown.
Our values
The way we go about achieving our goals is just as important as reaching them. Our values are derived from the Lasallian Charism and, along with our mission and vision, are the foundation of yourtown.
Brother and Sister to All
We value each other and everyone we meet.
Perseverance in Service
We never give up!
Faith and Zeal
We do everything with energy and commitment.
Innovation and Resourcefulness
We're not afraid to try new things.
Professionalism
We stand for quality and lead by example.
Ways we work
At the heart of who we are is how we respond to the needs of the disadvantaged.
Respect
We Respect others by listening and being honest.
Excellence
We strive for Excellence in what we do.
Creativity
We're Creative, working in ways that get amazing results.
Respect
"Respect to me is something that can be earned, something that can be learned and something that must be given. We demonstrate respect by walking in another's shoes and showing them they can live life without fear of criticism or judgement."
- Dean Brunker, Vocational Training and Employment Centre (VTEC) Manager
Excellence
"yourtown staff don't just go-to-work. yourtown provides employees with a valued workplace culture that naturally inspires us to assist in our success and lead by example every day."
- Danielle McCormick, jobactive Business Manager
Creativity
"We don't use a cookie cutter approach, we continually think outside the square and never believe that near enough is good enough."
- Jo Vanstone, Families Programs Team Leader
Our strategic framework 2019-22
At yourtown, our focus continues to be on ensuring our programs and services meet the needs of young people.
To do so we must continually challenge ourselves, to ensure what we do is relevant and effective. We need to engage meaningfully, and give voice through advocacy.
These themes are the foundations for our strategic framework which has been developed across two streams:
Community Services and Programs
People, Positioning and Performance
There is no doubt that we have set ourselves some big goals. However, our Mission requires us to be bold, to set high standards, and at all times keep the wellbeing of children, young people and families as our priority.