Kids Helpline changes face for new generation
Kids Helpline changes face for new generation
By: yourtown
11 Dec 2017
Blog, yourtown Organisation News, Kids Helpline
Kids Helpline is excited to reveal its brand new logo and website to empower and support a new generation of children and young people.
Twelve months ago Kids Helpline kicked off a year-long project to look at what young people today think about the service and review its identity and digital help tools to best support young people in Australia.
The Kids Helpline logo has literally had a facelift, dropping the landline phone and giving the iconic smile a modern makeover.

Kidshelpline.com.au has also been overhauled to deliver a site written by counsellors and driven by what young people told Kids Helpline they want and need.
This includes more personalised navigation, illustrations and content created specifically for five different audiences: Kids, Teens, Young Adults, Parents and Carers, as well as Teachers and Schools.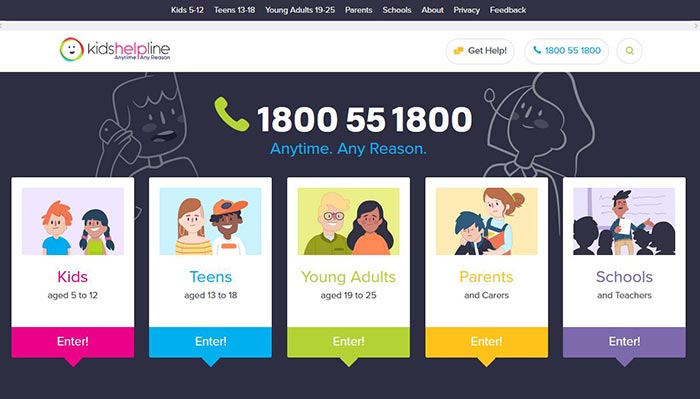 "From landlines to mobile, websites, emails and WebChat, our service already looked very different to when it was launched more than 26 years ago," yourtown CEO Tracy Adams said.
"We've always been about innovated service delivery and over the last 12 months we worked with focus groups of young people to find out what Kids Helpline could do better today. What were their likes, dislikes and preferences? How could we best be there for them when they need us most?
"We were pleased to learn that young people found Kids Helpline to be non-judgemental and professional with counsellors that really care about them anytime and for any reason. Having been around a long time, they also felt in safe hands when talking to us.
"Unsurprisingly, in a digital age the old style telephone in our logo no longer seemed relevant, but the context of the face – smile, colour, vibrancy – was still very important, symbolising a friend that's constant and always there as a safety net when needed."
Kids Helpline is Australia's only FREE, private and confidential phone and online counselling service for children and young people aged 5 to 25 years. Free call 1800 55 1800 or kidshelpline.com.au.
About yourtown...
We're a community funded organisation that tackles issues like youth unemployment and mental health, and take on issues like family and domestic violence.
LEARN MORE
Stay in touch
Show your support and get the latest news and updates on our yourtown Australia Facebook page.

LIKE US ON FACEBOOK