When Mikaela was at the end of the road, Kids Helpline was there
When Mikaela was at the end of the road, Kids Helpline was there
By: yourtown
27 Jan 2021
Case Studies, Blog
"I never gave up on myself and Kids Helpline never gave up on me."
* Please note this story discusses suicide
Since 1991, Kids Helpline has responded to more than 8 million contacts. Whether they're lonely, need advice, are struggling or in urgent need of support, young people have been able to reach out to Kids Helpline's qualified counsellors 24/7, 365 days a year.
Young people like Mikaela.
Mikaela's story
My name is Mikaela. I've had a long, painful and intense journey struggling with my mental health, but people would probably be shocked to hear this if they met me today!
I first started having suicidal thoughts at age 12, however I didn't reach out to anyone for help until I was 15. That's when I was diagnosed with depression and anxiety.
It was at this point that a psychologist at a youth mental health service I was attending suggested I contact Kids Helpline – a service I had never heard of before.
My regular counsellor at Kids Helpline was awesome and arranged weekly sessions for us, but sometimes I would call numerous times a week in crisis when I was suicidal.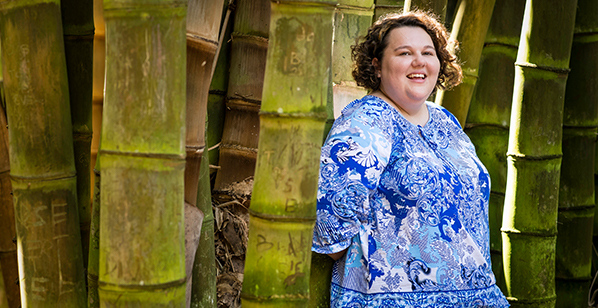 Mikaela is now sharing her story to make a difference in the lives of other young people
I always called Kids Helpline when I felt like I was at the end of the road.
I should be a statistic and my name should be on the suicide death register. That's how bad things were for me.
I'm now 27, working part-time in the mental health sector and look forward to waking up every morning, which I think is phenomenal.
I won't lie and say that my life is easy or perfect, but I'm off medication for the first time in 12 years and I'm feeling good.
Life is good, and I'm grateful to everyone that helped me get here, especially the team at Kids Helpline.
We couldn't do it without your support
Kids Helpline is Australia's only free and private 24/7 phone and online counselling service for young people aged 5 to 25.
A service of yourtown, Kids Helpline gives children and young people choices, support and someone to listen.
It is because of our supporters that when a young person, like Mikaela, reaches out for help, we're able to listen.
By donating or buying a ticket in our Prize Home Draws, you help Kids Helpline to make sure those calls for help don't go unanswered. It's a great chance to win and provide young people with vital services.
About yourtown...
We're a community funded organisation that tackles issues like youth unemployment and mental health, and takes on issues like domestic and family violence.
LEARN MORE
Stay in touch
Show your support and get the latest news and updates on our yourtown Australia Facebook page.

LIKE US ON FACEBOOK