What is it?
An Optus sponsored program allowing primary school students to access Kids Helpline counsellors in their classroom.
Who is it for?
All primary schools across Australia.
Harnessing technology for good
This innovative early intervention and prevention program uses technology to connect primary school aged children with knowledge that can positively impact their emotional and mental health.
Kids Helpline counsellors interact with children in their own classrooms, via video link or phone. Teachers work with the counsellor to develop the session based on the needs of the students, and play an important role in co-facilitating the session. Discussions help children develop their skills, resilience and ability to reach out for help when needed.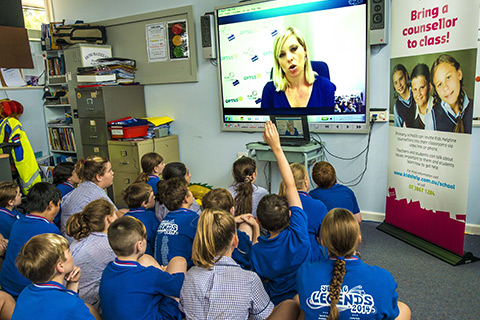 Check out the program! Kids Helpline @ School - Helping you educate and protect kids.
The program is sponsored by Optus and is FREE to all schools.
It is aligned with the General Capabilities of the Australian Curriculum.
To view a snippet of the program, check out our video.
To find out more about Kids Helpline @ School or to book a session, visit www.kidshelpline.com.au/school or contact the Project Officer on school@kidshelpline.com.au or phone 07 3867 1284.
"The info shared was exactly what we were looking to get across."
Teacher