Contact Details & Locations
We offer our Young Parents Programs in two locations in Queensland and South Australia.
Supporting And Developing Skills And Connections With Families
Being a young parent brings unique challenges. yourtown helps young parents learn good parenting skills and form supportive relationships.
Programs are offered in welcoming settings for infants and their parents/carers. Specialists develop programs and activities to respond to the needs of each child and parent/carer to encourage interaction within families and within groups.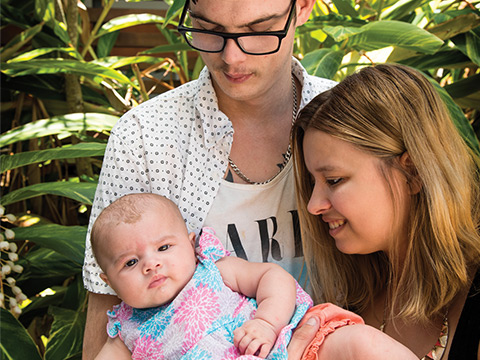 "We celebrate families with a focus on respect and encouragement." Tracy Adams, yourtown CEO
All programs focus on encouraging, valuing, respecting and celebrating young parents and their families.
These programs offer parents and children opportunities to develop new skills through:
Peer and social support with other young families
Sharing ideas and experiences
Organised activities for parents and their children
Outreach/Home visits
We provide workshops on life skills and parenting, including:
Child development
Personal development and life skills
Activities
Healthy relationships
Communication
Healthy eating
Craft
Personal support
Supporting education for early school leavers
Circle of Security
Budgeting
Bumps and Bubs
Linking into community activities
Accessing a range of health and other professional and community services
Glugor Young Parents Program
This purpose-built facility incorporates training rooms and children's rooms within a natural setting to support young parents, carers, infants and young children (0-5 years) who live in the Moreton Bay Region. Priority is given to young families in Deception Bay.
Penrose Young Parents Program
This service supports young parents of infants and young children (0-4 years), or parents-to-be, who live in Port Pirie, South Australia. The group offers advocacy, support and education, whilst providing the chance to develop new friendships in a welcoming home-like environment.